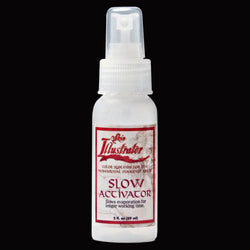 Premiere Products Inc. (DG)
Skin Illustrator Slow Activator
Made with a similar proprietary blend of ethanol and isporopanol to our regular Activator,  Slow Activator allows an artist more time to work when applying Illustrator colors.  Initially designed for the Hair Illustrator palettes, Slow Activator is also excellent for use with the Skin Illustrator Palettes, especially when temperature and shooting conditions cause our regular Skin Illustrator Activator to evaporate faster than normal. 
A quick spray into the palette and the color is ready to be applied with a brush or makeup sponge. The Activator evaporates out of the makeup after it is applied leaving a semi-permanent makeup.  (Do not use anything other than Activator, Slow Activator or 99% alcohol on any of the Skin Illustrator palettes).

4oz. and 8oz. sizes available.
THIS IS A DANGEROUS GOODS ITEM - HAZARDOUS SHIPPING FEES AND RESTRICTIONS WILL APPLY.  PLEASE SEE THE DOMESTIC AND INTERNATIONAL SHIPPING LINK FOR MORE INFORMATION.  CLICK HERE