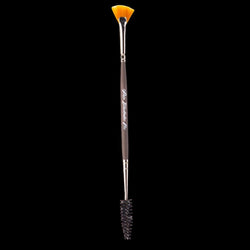 Premiere Products Inc.
Pro Brushes - LH
 LH 1 ( Fan/Mascara ) is a unique double-ended mascara and fan brush, made from synthetic Fibers and  handcrafted by skilled European brush makers.   
All of the different series of Skin Illustrator Pro Brushes come with the same ergonomically designed handles which fit very comfortably in all hand sizes and they wont roll off of your makeup table.   Our handles are matte and faceted for dexterous control of the brush. The fibers are set into seamless nickel ferrules and made with solvent resistant base paint and adhesives for a legacy makeup brush.