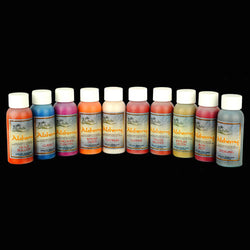 Premiere Products Inc. (DG)
Skin Illustrator Alchemy Liquids
The Skin Illustrator Alchemy Palette is the fourth addition to the Skin Illustrator line.  A first in a series of specialty colors, this palette of bright metallic colors was designed to simulate precious liquid metals.  The colors are safe for use on the lips, skin, hair and around the eyes.  The colors can be used with PAX, rubber mask grease, foam latex, gelatin, plastic and silicone appliances. The Alchemy palette and liquids are ideal for beauty, fantasy and special effects make-up.
You must use Skin Illustrator Activator,  Skin Illustrator Slow Activator,  or 99% alcohol to activate the color pigment.  Do Not use  70% alcohol, MEK, acetone, water or any other solvent.  
The Skin Illustrator Liquid Colors can be used with any airbrush. 

Removal is easy with Telesis Super Solv orTelesis Makeup Remover.
THIS IS A DANGEROUS GOODS ITEM - HAZARDOUS SHIPPING FEES AND RESTRICTIONS WILL APPLY.  PLEASE SEE THE DOMESTIC AND INTERNATIONAL SHIPPING LINK FOR MORE INFORMATION.  CLICK HERE

 Take a look at this video to see how the Alchemy colors can be used as eye shadow.