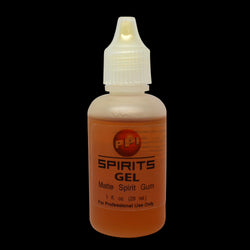 Premiere Products Inc. (DG)
PPI Spirits Gel
PPI Spirits Gel is a thickened version of our definitive Matte Lace Adhesive. Originally developed and perfected for use on the 2012 Oscar winning film, Lincoln,  PPI Spirits is a very strong, fast drying matted adhesive,  suitable for all lace hair-goods, as well as appliances. It doesn't yellow the lace, create build-up or get crusty.  This gelled version won't drip or run down your actors' face, as it stays where you put it.  This product is cruelty-free and vegan approved.  PPI Spirits (liquid) is available in our new Applicator Pen and in a 1 oz. bottle.  
Watch the video below to see what Oscar nominated makeup artist, Steve Prouty had to say about PPI Spirits, while using it on the 2013 film, Bad Grandpa.  
"PPI Spirits is really a great adhesive.  It matts out well and doesn't get yellow or crusty the way other spirit gum adhesives do. It's just what we needed for Bad Grandpa."  Steve Prouty - Oscar nominee 2014.
THIS IS A DANGEROUS GOODS ITEM - HAZARDOUS SHIPPING FEES AND RESTRICTIONS WILL APPLY.  PLEASE SEE THE DOMESTIC AND INTERNATIONAL SHIPPING LINK FOR MORE INFORMATION.  CLICK HERE