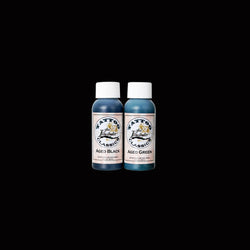 Premiere Products Inc. (DG)
Skin Illustrator Tattoo Classic Liquids
Recreate any genre of tattoo using the classic aged black and green colors of the past with Skin Illustrator's new Tattoo Classics liquids. From the old, faded, hand-made style to modern recreations of tribal bands to historical designs, Tattoo Classics can easily produce the aged effect you desire. The only variable is your application technique.
Make it look modern, make it look classic, make it look like it's been there forever!
   Also avaiable in a
dry palette
.
NB.  Due to the high pigment content and lack of unnecessary fillers in the Skin Illustrator color system, cracks, bubbles and any shrunken appearance that may occur in some dried color cells does not affect the quality or performance of the product in any way. 
All Skin Illustrator palettes must be activated with Skin Illustrator Activator , Skin Illustrator Slow Activator or 99% alcohol. Do not use anything else.
Removal is easy with PPI's Telesis Super Solv or Telesis Makeup Remover 
THIS IS A DANGEROUS GOODS ITEM - HAZARDOUS SHIPPING FEES AND RESTRICTIONS WILL APPLY.  PLEASE SEE THE DOMESTIC AND INTERNATIONAL SHIPPING LINK FOR MORE INFORMATION.  CLICK HERE
Makeup by Andrea Lee, Dana Lee & Reiko Tanaka