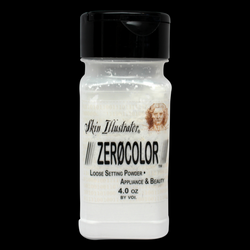 Premiere Products Inc.
ZeroColor Powder
Zerøcolor Powder is an ultra hi-tech light weight formula to bring setting powders into the 21st century. There is absolutely no colorant so you won't experience any ghosting or alteration to your foundation color. A staple for any beauty or special effects kit. 
Our powder is made by hand in small batches to maintain quality assurance.
Cruelty free and Vegan
Removal is easy with PPI's Telesis Super Solv or Telesis Makeup Remover.